EAT
ROCKHOUSE RESTAURANT
Celebrated as Negril's premiere fine-dining destination, take a seat and look out over the volcanic cliffs on to the brilliant Caribbean Sea. It won't take long to discover why it's called the "Pristine Cove."
Serving breakfast, lunch, and dinner, the Rockhouse restaurant was designed to blend seamlessly into the tropical environment. Grab a cup of Blue Mountain coffee and quietly watch the birds in the morning or grab your partner and join us for a romantic candlelit dinner. A welcoming and serene atmosphere awaits any time of day.
Open daily from 7am with last seating for dinner by 9.30pm (kitchen closes at 10pm). But don't worry, if you'd rather not leave your bed room service is also available during these hours.
Make A Reservation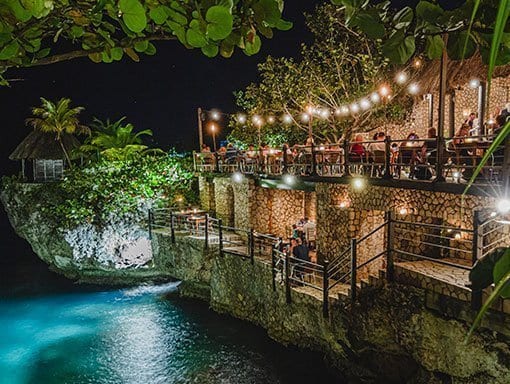 PUSHCART RESTAURANT & RUMBAR
Our modern version of the classic Jamaican "Jerk Centre," Pushcart serves up a full spectrum of the island's traditional fare in a lively, colorful, and music-filled outdoor atmosphere. Enjoy perfectly smoked and seasoned chicken, pork, and fish straight off the jerk pan grill, served with all of the classic fixings of "yard" cuisine.
Pushcart takes you on a culinary tour of the island without having to leave your seat. Our peppered shrimp dish is inspired by roadside vending in Middle Quarters, St. Elizabeth where vendors rush your car with juicy hot peppered shrimp in clear plastic bags. From the pirate city of Port Royal, is our version of steamed fish with bammy. And from the farthest point East, we offer our homemade jerk sausage made famous by Jamaica's "jerk center" at Boston Bay, Portland. The menu also offers our twist on Jamaican home cooking staples such as curried goat, oxtail and fried chicken.
Join us for nightly DJs, in a space filled with dancehall-inspired visuals courtesy of renowned local and international artists, and strong tropical libations featuring our bar's vast selection of the Caribbean's finest rums.
Open everyday from 3pm with last seating for dinner by 9.30pm (kitchen closes at 10pm).
Make A Reservation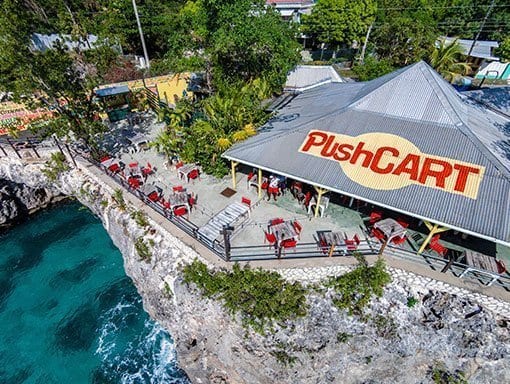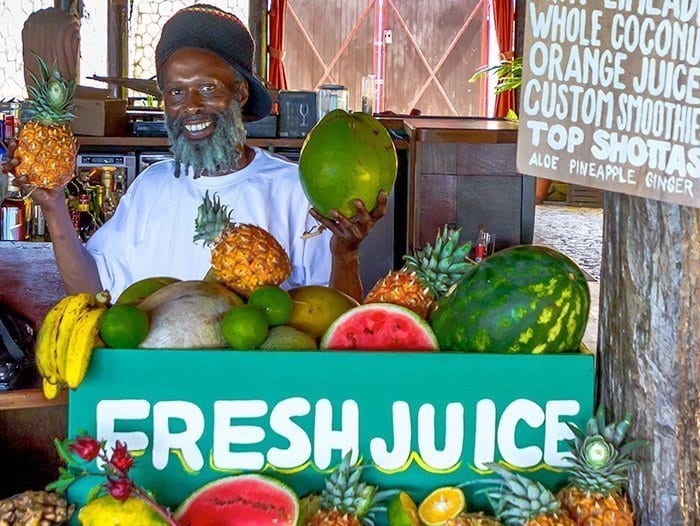 ORGANIC JUICE BAR
This is your time to rejuvenate and reinvigorate. We recommend starting your morning with a ginger shot from our selection of delicious organic, local, and fresh juices made daily. Our menu includes the Rockhouse Green Juice, exploding with antioxidants from callaloo and bok choy grown in the Rockhouse Organic Garden. And if the daiquiris got the best of you last night try our detoxifying Jamaican Beet, our most popular juice. Our fresh watermelon, pineapple and orange juices are delicious and our invigorating aloe shot will jump start the immune system. Or go for a good ole classic coconut "wata" served in the shell. Health is wealth.
Open daily from 7am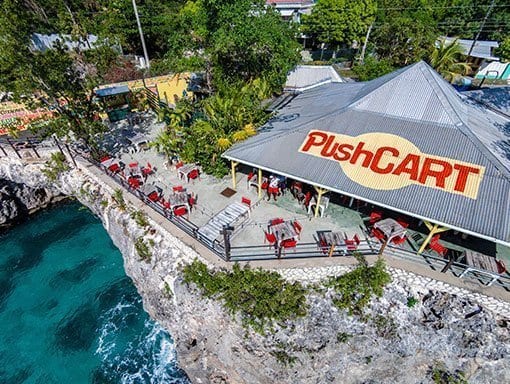 POOL BAR & GRILL
The lounge chairs on our cut stone infinity pool deck are so comfortable it can be difficult to leave, but luckily you don't have to. Vacation bliss awaits you at our Pool Bar & Grill. Enjoy a tasty lunch of jerk chicken, grilled snapper sandwich or the Rockhouse burger, grilled on an open jerk pan without ever having to leave your chair. Stay for the memorable Jamaican sunset while sipping signature Rockhouse cocktails at our 2-for-1 Happy Hour from 5pm to sunset.
Open daily for lunch from noon until 4pm, and for beverages from 11am to sunset.