Rockhouse is an award-winning boutique hotel perched over Pristine Cove on Negril's west end. A long-cherished destination for stylish travelers, Rockhouse has an impeccable 25-year commitment to regenerative travel. While prioritizing our guests, and nurturing the spirit of our amazing team, the Rockhouse undertakes environment best practice (Green Globe Certified) while putting back into the community through the Rockhouse Foundation.
STAY
Nestled amongst eight acres of lush tropical gardens, and perched high atop the cliffs of Negril's West End, the Rockhouse property is comprised of forty rooms with all the comforts of a boutique hotel. Each of the rooms are built from timber, stone and thatch and designed to exist in harmony with the jungle-like garden and volcanic rock of the breathtaking natural landscape. Children over twelve are welcome at Rockhouse, unfortunately younger guests are not permitted.
Check in for Good Vibes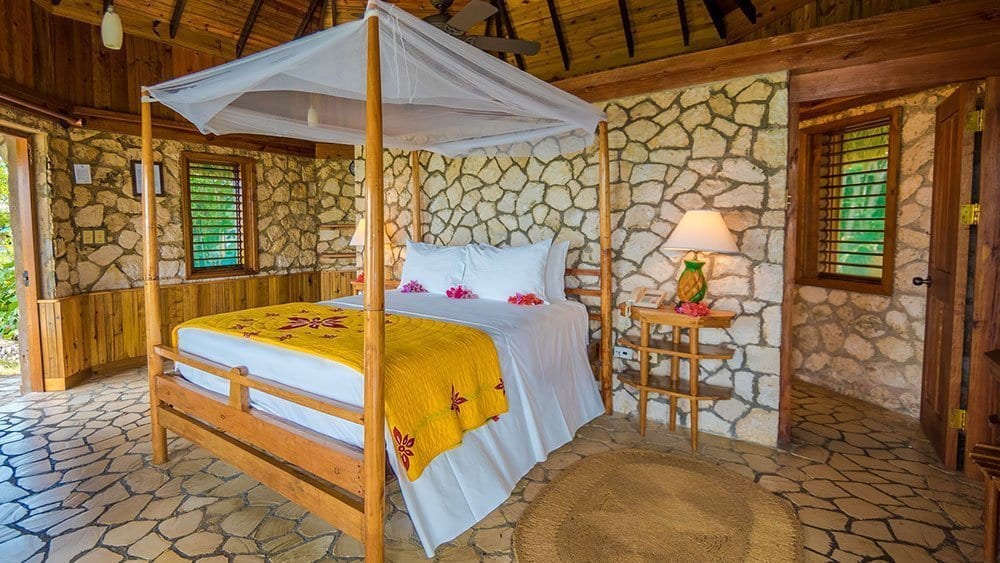 EAT
A morning swim in the Caribbean sea really works up the appetite: allow us to nourish you one of the most talked about restaurant on island. The Rockhouse Restaurant offers new Caribbean cuisine – a lighter, modern interpretation of Jamaica's classic dishes incorporating local ingredients and some picked from our very own garden.
Your biggest decision for the day will be choosing between dining on the deck at the Rockhouse Restaurant or ordering room service and enjoying your privacy.
Dine With Us
SPA
Our spa has one mission: to help you unwind by any means necessary. How does a massage in a cabana overlooking the Caribbean sea sound? How about a Blue Mountain coffee scrub in our tropical gardens? There's a reason we're a two time winner of the World Travel Award for Best Spa in Jamaica.
Sit Back & Relax
OUR BLOG
THINGS TO DO IN NEGRIL
Our team of locals and owners have put together a series of blog posts around their favorite things to do in Negril and Western Jamaica. Our goal is to make you a "local on arrival" at Rockhouse and these posts give you the latest updates on activities that will inspire you.
Learn More From Our Blog
VISIT THE BEACH
SKYLARK NEGRIL BEACH RESORT
Rockhouse is excited to announce the opening of its new sister hotel the Skylark Negril Beach Resort featuring Miss Lily's, the first Caribbean outpost of New York's famed Jamaican eatery. Complimentary daily shuttles ferry you to and from Skylark where your beach tent, lounges and seaside service await.
Visit Skylark Negril
LIFE AT ROCKHOUSE
Jamaica: The coolest place on earth.
Negril: Homebase of the island's free spirits.
Rockhouse: The island's best kept secret.
In the 70's, Bob Marley The Rolling Stones and Bob Dylan hung out on the cliffs of Rockhouse. Today, it is the epicentre for Jamaican creatives, innovators, tastemakers, looking to unwind. Rockhouse has found the perfect formula for the balance between relaxation and play.
The bar is always open, reggae is on the speakers. All that's missing is you.
DISCOVER JAMAICA
We love Jamaica and we want to encourage our guests to take advantage of the island's amazing beauty and culture during their stay at Rockhouse. On arrival you will receive a Rockhouse Passport to promote wellness of the mind, body, and soul while encouraging you to enjoy a well-rounded travel adventure, discovering and connecting with as many of the amazing local sights and experiences as possible.
TEAM
Our greatest asset is our amazing team. More family than staff, at Rockhouse we share the success of the hotel with them. We invest in our team's professional and personal growth. We believe in their potential and we know that a rewarded, empowered and enabled team will take the very best care of our guests.
Meet Our Team
DIRECTIONS
Rockhouse sits on Jamaica's western most point, 76 km from Sangster International Airport in Montego Bay. The 90-minute ride winds along the coast, allowing you to take in the wonderful sights of western Jamaica. If you have not booked your transfer from the airport to the hotel, we recommend Kenny Tours.
Get Directions To Rockhouse