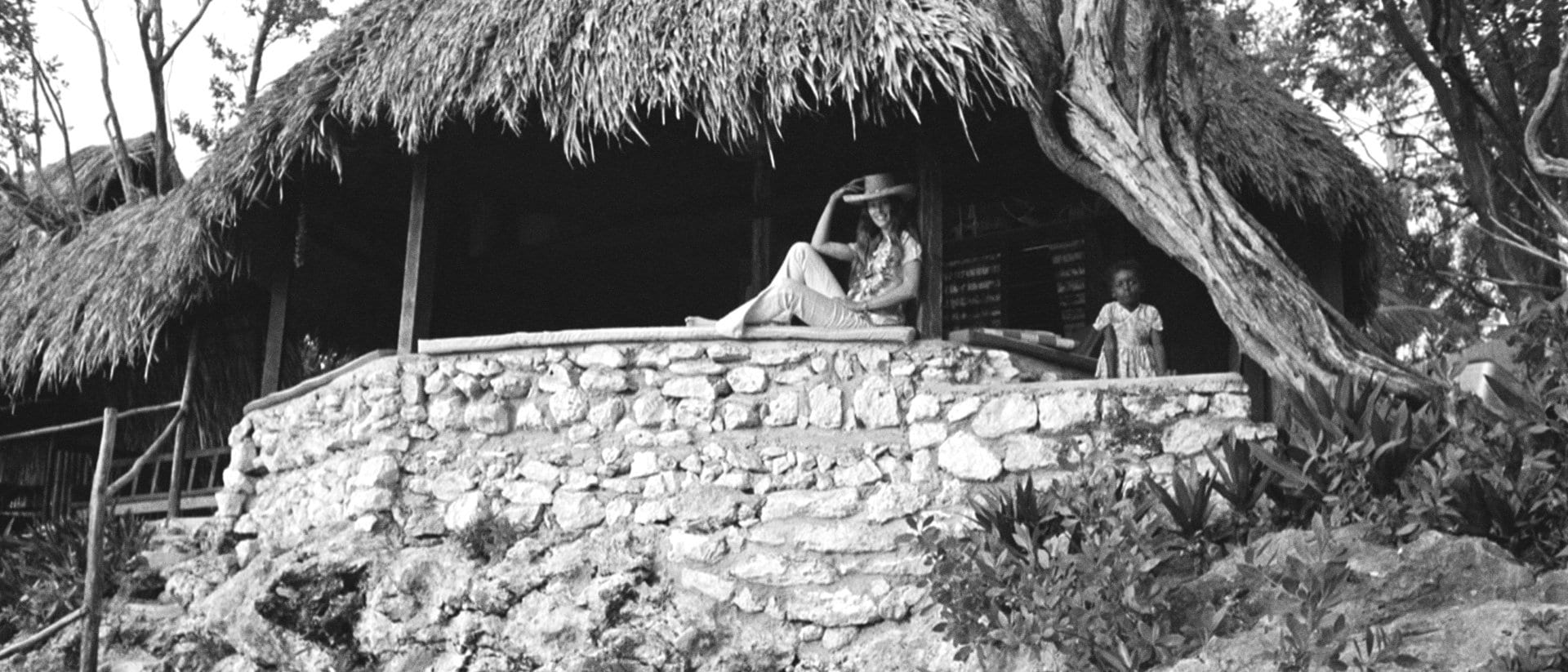 HISTORY
Once upon a time in the 1960's, Negril was a sleepy seaside fishing village with barely any road access. But that didn't put off John Behmiller, one of the first Americans to buy land in the area. First, he bought a property on the beach but when he ventured to the undeveloped and wild cliffs, he took one look at the Pristine Cove at Rockhouse and was instantly captivated.
Before opening as a hotel, Rockhouse's beauty made it a feature in many major motion pictures. Rockhouse made its film debut in the 1954 Academy Award winner 20,000 Leagues Under the Sea, featuring shots in the cave directly under Pushcart Restaurant & Rum Bar. The 1973 Academy Award nominated historic prison drama Papillon staring Steve McQueen and Dustin Hoffman includes an iconic scene shot right below where Villa #8 now stands, pictured here:
Rockhouse also starred in Perry Henzell's — the legendary Jamaican director of cult classic The Harder They Come — long lost follow up film No Place Like Home shot in 1973. The film was lost in a storage facilitary for 30 years before it was found, restored and premiered at the Brooklyn Academy of Music in August 2019. The film captures the history of Negril as it begins to open its doors to tourists. If you are in the US you can watch the entire movie here. Catch an aerial view of the undeveloped Rockhouse property in the second shot of the trailer for No Place Like Home featured below:
Original owner John Behmiller befriended architects Don Erickson and Dennis Stephens who both worked for Frank Lloyd Wright before establishing their own firm in Chicago. Behmiller introduced them to Negril and they worked on the original thatch roof designs at Rockhouse. In 1973 Behmiller sold the Rockhouse to a group out of Chicago including Erickson and Stephens.
Officially opening to the public in late 1973, Rockhouse was one of the first hotels on Negril's West End. Early notable guests in the 1970's included Bob Marley, Bob Dylan and the Rolling Stones. The iconic location has been a backdrop to everything from Vogue and GQ photoshoots, Playboy and Penthouse Magazine centerfolds, to a Jay-Z music video.
In 1994, the property was purchased by a group of Australians who undertook a major renovation of the existing 13 rooms and added the front office, boutique, pool & pool bar, restaurant & lounge and a commercial kitchen. Over the next 25 years they continued to reinvest in the Rockhouse's evolution and expansion while maintaining the original organic vibes and staying true to their credo of responsible and sustainable community-based tourism.
The original 3 acre, 15 staff and 13 villa property from 1994 has expanded with the acquisition of seven adjoining properties and the addition 27 rooms, a full service spa, Pushcart Restaurant & Rum Bar, an organic farm, a plant nursery, a woodwork shop where all our furniture is made, a new expanded laundry, and candle and spa product manufacturing facilities. The property now boasts 8 acres, 185 staff, 40 rooms, 3 restaurants and a world class spa.
The beautiful black and white photographs featured on this page were shot in Negril in 1972, mostly at Rockhouse, and feature the then owner of the property John Behmiller with his friend Charity Otto. The photographs appear courtesy of Robin Farquharson, an acclaimed Jamaican photographer whose work has been exhibited around the world. You can view more of his Negril photos and link to purchase here.