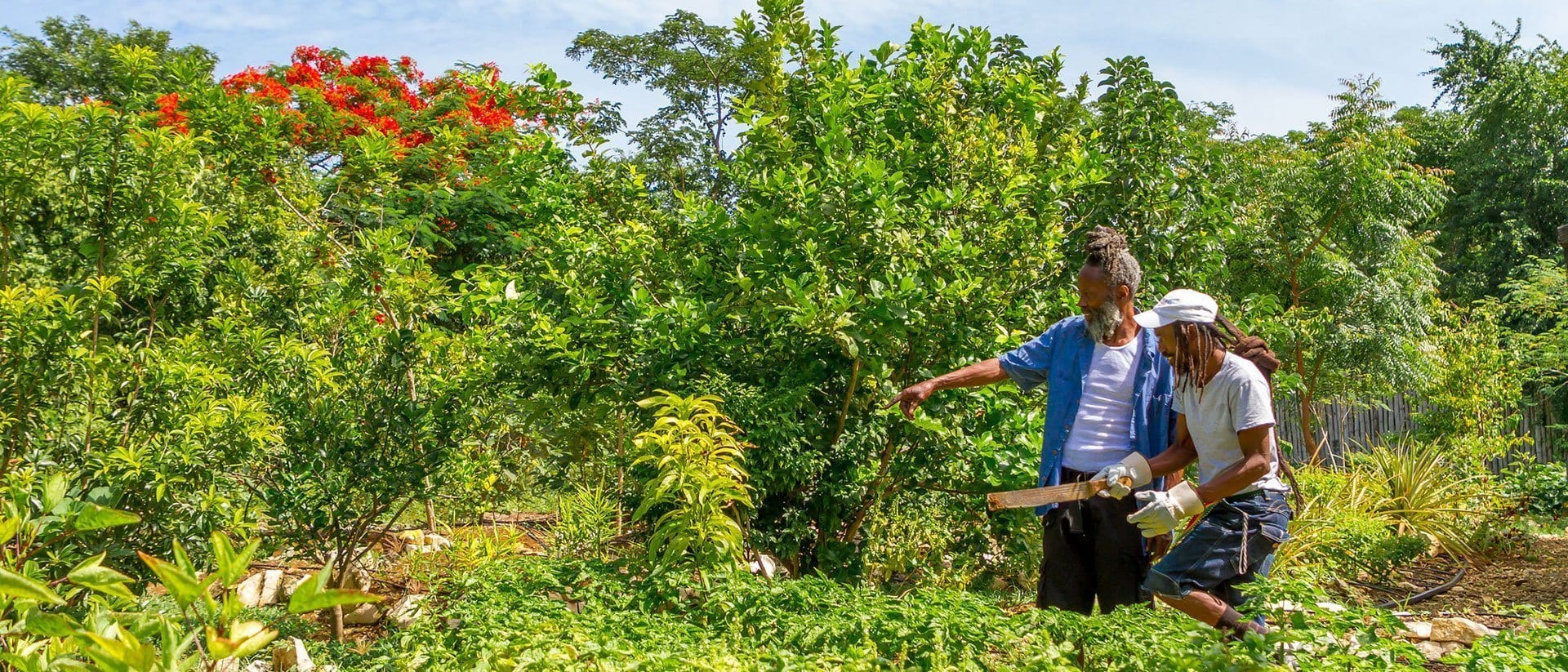 Environment
Negril is one of the most beautiful places on earth and we do our part in keeping it that way. Rockhouse has had Environmental Certification for over 20 years and strives to achieve the best environmental practices across its entire operation.
PRACTICES
The hotel minimizes its use of natural resources, air emissions, and hazardous materials, and monitors and records environmental performance with a continuous commitment to improved practices. With our on-site organic farm, plant nursery, woodworking shop, candle making and spa products production facilities Rockhouse is focused on reducing our footprint.
For us, being green is more than words in a brochure, we get down and dirty. Throughout the property we have implemented solar hot water (with gas heat back up), low voltage lighting, rainwater harvesting, paper and cardboard recycling and an extensive composting program. All of our garden waste is chipper shredded to mix with our compost, or reused as ground cover on our garden beds. Plastic straws and plastic shopping bags have been eliminated from the property and we are working with our suppliers to reduce excess packaging. Guest rooms have AC cutoffs so an empty room is not left air conditioned all day in addition to a towel and linen reuse and recycling programs.
SINGLE USE PLASTICS ERADICATION
We have committed to the elimination at least 90% of our single-use plastics on property by the Earth Day 2022. We have already implemented a refilling strategy for our in-room amenity products and removed key plastic bottles from our mini bar and bars. We have also eliminated many of the plastic garbage bags used around the property. And because we are a community-based organization, we are supporting the establishment of a new local glass bottled water plant, Discovery Water to become our primary spring water provider and we are working with them on a bottle recycling program. In 2019 Rockhouse and Skylark combined used over 30,000 plastic bottles …our commitment is to reduce that waste to zero in 2022.
ENVIRONAMANT MANAGEMENT SYSTEM
To make sure this all runs smoothly, Rockhouse has implemented an environmental management system and has created a Green Team of senior management and representatives from all departments that meets on a weekly basis. We have appointed a Green Globe Manager, Ruel Rowe, who has the responsibility of ensuring ongoing environmental performance and implementing social sustainability measures. In every guest room we post our environment commitment letter.
GREEN GLOBE BEST PRACTICE
We encourage staff to share our commitment to environmental and social sustainability and our status under the Green Globe Certification program with our guests, suppliers, contractors, agents and wholesalers. Every year, we undergo an expert external environmental audit and benchmark against previous years. We continually compare to best industry practice and strive to achieve international best standards. Working together with our charitable arm, the Rockhouse Foundation, we are deeply committed to social sustainability and creating a profound positive impact in the local community.
EDUCATING THE NEXT GENERATION
It doesn't stop at the property's borders, we are getting the whole community involved. For over a decade we have hosted the annual Negril Area Green Globe Quiz, a yearly competition developed by the Rockhouse Green Team for local schools to enhance student's environmental awareness. Conducted at the Negril Library, an environmental education curriculum is provided to all the local area primary schools. Teams of 6th grade children race to hit the buzzers to answer questions about sustainability while their teachers and peers cheer. With a trip to Kool Runnings Water Park as one of the prizes, the competition can get fierce amongst the eight local schools represented.