DESIGN
Rockhouse's iconic design was inspired by Frank Lloyd Wright's mantra "a house should be of the land, not on the land." Rockhouse's original architects Don Erickson and Dennis Stephens both worked under Frank Lloyd Wright in Chicago before forming their own firm in the early 1960s. Using local materials as a powerful way to bond the design to the land and to the community they added features that also save energy like wider eaves. They focused on effortless harmony and embracing the external elements of nature.
Throughout their 30 years in practice together, Erickson and Stephens designed some of Illinois's most iconic modernist houses and buildings including Rockhouse's original owner John Behmiller's 1965 Chicago home. Behmiller introduced them to Negril and they subsequently worked on a number of architectural projects in Jamaica, including the award winning Coconut Cove, now Sandals Negril.
The architectural duo first created the round thatch roofed hut above the cave and carved stairs into the rocks to access the cove. The center post of the original hut still stands in the middle of the Rockhouse Bar as an homage to the original structure. In 1973 new octagonal villa rooms were designed and the timber framing, doors and siding was built as kits in Miami and shipped in containers to Jamaica and assembled on site adding local stone for foundation, flooring and balconies, and thatch for roofing. Now fully restored some of these original octagonal timber rooms still stand on the property being villas # 9, 11, 12, 13, 15, 17, 19 & 20.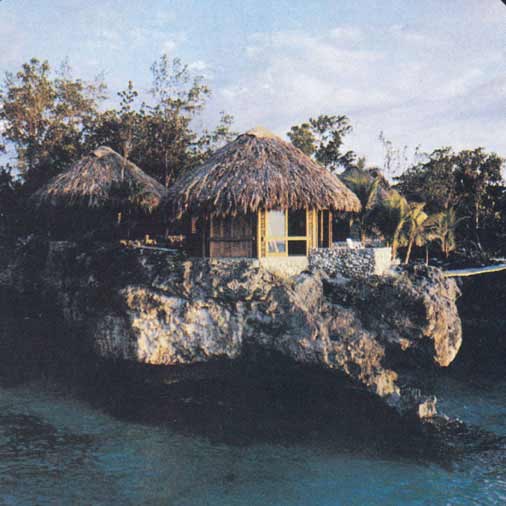 In the early 1980's, another three villas were designed and built. These rooms were similar in floor plan to the original timber rooms but were made entirely from locally quarried cut stone and set into the landscape slightly forward of the existing rooms. These are now villas # 14, 16 and 18. Over the next decade the Rockhouse suffered from a lack of reinvestment and in 1994 the current owners purchased the property and French Australian architect Jean-Henri Morin worked to fully renovate and expand the property while remaining faithful to its original organic inspiration.
The design principles behind Rockhouse evolve directly from the natural surroundings. Emphasis is placed on simple and strong forms and the hotel is designed to be a harmonious and respectful insertion into its jungle-like environment. Choice of materials was also critical – local timber and thatch were chosen to merge with the fully-grown garden. The use of stone was inspired by the surrounding fossil rock landscape. All room furnishings, constructed from local hardwoods and timbers, are built on site at the Rockhouse woodwork shop.
Jean-Henri Morin continues to oversee the architectural development of Rockhouse. He has a strong interest in the development of high quality architecture that has a positive and sustainable relationship with the environment. Jean-Henri was born and educated in France and currently resides in Australia, working on both international and local projects.