COVID-19 SAFETY
At Rockhouse, we want to ensure you are safe and healthy throughout each stage of your journey. You can learn more about what it is like to travel to Jamaica during COVID-19 from our recent blog post:https://www.rockhouse.com/blog/traveling-to-jamaica-during-covid19/
Please ensure you are familiar with the new travel requirements for vacationing in Jamaica.
BEFORE ARRIVAL
Jamaica requires all travelers 12 years and older to provide a negative COVID-19 PCR or Antigen test taken no more than three days before arrival. A Jamaican Travel Authorization is also required by all tourists visiting Jamaica. Requirements, travel updates, and everything you need to know is at www.visitjamaica.com
NOTE: you will need the negative COVID-19 test result (if applicable) and your Travel Authorization at check-in for your flight.
IN JAMAICA
At Rockhouse, you have the option of contactless pre-arrival check-in, and you will immediately notice signs posted throughout the property reminding you to wear a mask, wash your hands, and social distance.
Jamaica has implemented what it calls a "Stay in Zone" order, which requires all travelers to remain within its "Resilient Corridor". The coastal town of Negril and both our hotels, Rockhouse & Skylark, are within this resilient corridor.
BEFORE RETURNING HOME
For departure from Jamaica, it is now mandatory for all guests entering the United States to get COVID tested within one day of their departure flight. Note this test does not need to be taken within 24 hours of your departure, and can be taken anytime on the day before you travel. We have partnered with Baywest Hospital & Clinics for their team to come on property at Skylark and Rockhouse and conduct the required Antigen COVID test (rapid testing) at a scheduled time each day. Please be sure to register for the test by the evening before the testing day. The cost of the rapid test is US$50 per person and this can be charged to your room. The result is ready the same day. PCR tests are also available at a cost of US$150.
NEW CANCELLATION POLICY
In these challenging times we want you to feel confident in making your reservation without the fear that circumstances beyond your control may result in financial loss for you. Accordingly, we have amended our cancellation policy to allow all travelers penalty free cancellation, where such cancellation is brought about by travel and/or border restrictions beyond your control. Also, if you change your plans for any reason, at any time prior to arrival you may move the booking to an alternative date and fully apply your deposit to that new date. For cancellations 14 days prior to arrival we provide a full refund. For cancellation less than 14 days to arrival the full deposit may be applied to an alternate date. There is no limit to the number of times you can change your booking dates and no penalty for any changes. During the Coronavirus pandemic refunds may take up to 90 days to process.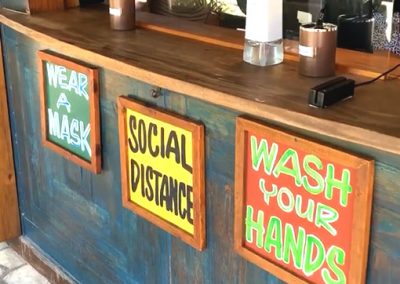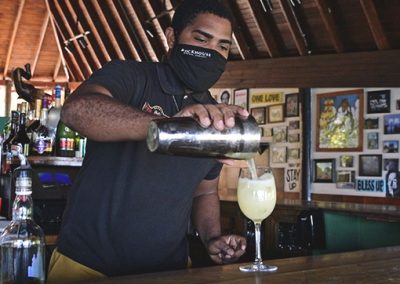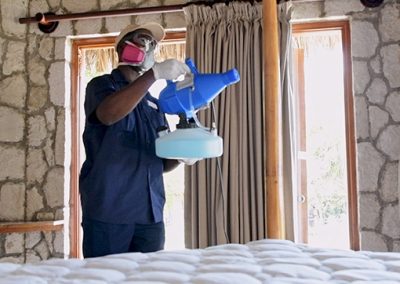 ROCKHOUSE PROTOCOLS & PROCEDURES
STAFF GENERAL
Daily Temperature Checks
Daily Health Declaration
Paid Sick Leave if showing any symptoms
Provided with all PPE
Mandatory Mask Wearing
Hand washing every 90 mins
Doctors certificate to return to work after symptoms
Commitment to following all protocols
Not wearing PPE is considered "gross misconduct"
Mandatory Training COVID-19 safety protocols
Lockers for checking in personal belongings
FRONT DESK
Pre-arrival Check-in Available
Social Distancing Floor Markers
New Glass Partitioning at Reception Desk
New Glass Partitioning at Security Desk
Swipe your own credit card
Hands Free Sanitizer as you approach the front desk
Sanitized Pens
Designated areas for disembarking upon arrival
Porter on request
Room keys are sanitized and pre-packaged
Used keys are collected to be re-sanitized
Minimized touchpoints at Check-in / Check-out
Signage in place for COVID safety
GUEST ROOMS
Dedicated Air Conditioners – no central air
Mini-Bar Sanitized & Minimized – QR Code
All high touch items removed
Restaurant Menu – QR Code
Spa Menu – QR Code
Guest Services Directory – QR Code
Guest Room Sealed After Cleaning & Sanitized
ON EACH GUEST ROOM CHANGE OVER
Fully Ventilated room with floor fans
Atomize entire room and leave for 2 hours
Sanitize Air Filters in AC units
Thorough cleaning with sterilizer
High touch surfaces sanitized twice
Inspection and re-sanitizing major touch points by manager
PPE worn including gloves, shield, single use mask, apron & gloves
Sealing room by Supervisor / Manager
GUESTS
Health Declaration
Temperature Check on Arrival
Mandatory Mask wearing in public areas
Social Distancing
HOUSEKEEPING
Training to use new COVID specific cleaning solutions
Training with SERV Safe
Training with the Jamaica Tourism Enhancement Fund
Training with Jamaica's TPD Company
Carts are cleaned and sanitized constantly
Hand sanitizers to be used regularly
All linens changed, bagged and labelled
Public areas cleaned and sanitized frequently
RESTAURANTS
SAFE Serve Training
Training with Jamaica's TPD Company
Training with Jamaica's Tourism Enhancement Fund
PPE worn
QR Codes for Menu on stand on the table
Order available via whats app
Swipe your own credit card
Hand wash sink and sanitizer station available on arrival
New Protocols for turning over tables, cleaning and sterilization
Room service is offered and encouraged, no additional cost
Implementation of additional hand washing
Reservations recommended to avoid gathering to wait on a table
All condiments removed – sterilized after each use
Table bare and wrapped utensils brought after seating
Tables are situated 6 feet apart – social distancing
No more than 10 person to a group dinning
Food & Drink are covered and brought to the table
Bar seating removed, all beverages served at the table
Server will not to enter room when delivering room service
Takeout orders will be sealed by chef
Takeout orders will be placed in disposable paper bags
Off property guests: temperature checks and health declaration
SPA
QR code for menu
Social distancing floor markers
International Protocol Training
PPE on therapist
Treatments in ventilated locations only
Masks on Guest
Sanitized pen
Temperature Check before service
Health Declaration
Implementation of additional hand washing
Spa cabana curtains are steamed cleaned daily
Hands-free sanitizing stations at each treatment area
Off property guests temperature checks & health declaration
KENNY TOURS TRANSPORT
Driver Mask Wearing
Guest Mask Wearing
Sanitize Luggage
Windows Open
Bus Sanitized before & after each use
Reduced seating capacity
No ridesharing on airport runs
KITCHEN
HASAP Training
Food Handlers (Jamaica Ministry of Health) Training
Training with Jamaica's TPD Company
Training with Jamaica's Tourism Enhancement Fund
SERVE SAFE Training
Zoned kitchen – floor markers to ensure social distancing
All Meals leaving the kitchen covered by the chef
Implementation of additional hand washing and cleaning
Pool
Sanitized furniture after each use

Furniture spaced to observe social distancing protocols

Reduced the maximum capacity
OTHER
Hand wash sinks throughout the property
Hands-free sanitizer stations at all major commerce points
Hands-free sanitizer stations outside all bathrooms